To take the Chakra Experiences Survey, click here.
The Chakra Experiences Survey takes approximately 5 – 15 minutes.  Your input will help us to understand how chakras are experienced.  This survey is for both, 1) meditators and yoga students with personal chakra experiences, and 2) healers with chakra experiences during healing sessions with clients.
Feel free to share any anomalous, exceptional, or non-ordinary experiences of the chakras that have had a transformative impact on you and/or your client.
This may include any images (e.g., flowers), colors (e.g., golden light), sounds (e.g., buzzing or bells), physical sensations (e.g., warmth or pulsations) or healings that you or your client may have experienced while working with any of the core chakras.
If you have seen any of the chakras clairvoyantly, please share how they appear to you.    
If a question is not applicable, please feel free to skip it.
The core chakras: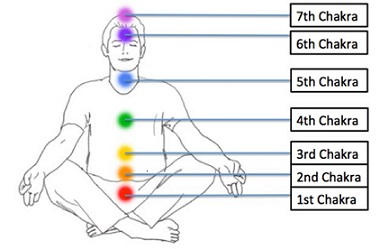 To preview a copy of the survey, click for this PDF:
Here is the Indiana University-approved Study Information Sheet:
To take the Chakra Experiences Survey, click here.
For any additional questions, contact me at mmoga@iu.edu
Thank you for participating!
Margaret Moga, PhD, Indiana University School of Medicine