In this qualitative study of the chakras, we use an online survey to characterize physical experiences of the chakras.  Preliminary evidence suggests that chakras may interact with the physical body, and thus, be amenable to scientific study.  MogaChakra22022
This survey is for meditators, yoga students, healers and martial arts students who have had experiences involving one or more of the core chakras.
The Chakra Experiences Survey takes approximately 10 minutes.  Your input will help us to understand how the core chakras are experienced.  Here are the core chakras: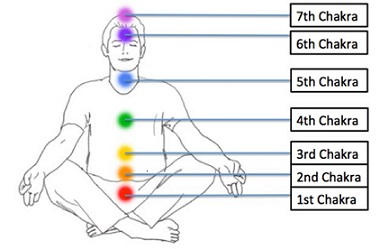 This survey asks if you have had any of the following chakra experiences:
physical sensations (e.g., vibrations, warmth) felt at the site of a chakra,
images or colors that arise when focusing on a chakra,
sounds that seem localized to a chakra,
lights entering or leaving a chakra.
In this survey, you will have the opportunity to share any exceptional or remarkable chakra experiences you have had, and any kundalini experience also.
If a question is not applicable or you do not wish to answer, please feel free to skip it.
To take the Chakra Experiences Survey, click here.
For any additional questions, contact me at mmoga@iu.edu
Thank you for participating!
Margaret Moga, PhD, Indiana University School of Medicine